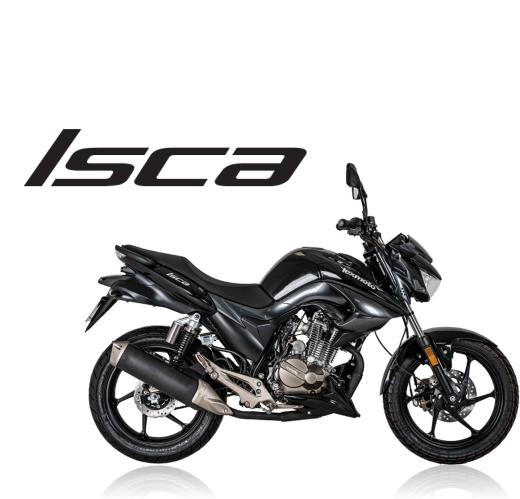 SK125-L-E5
125cc 4 Stroke


Lexmoto Isca 125 Euro 5 Overview
Other Information
Model Code :

SK125-L-E5

Fuel Consumption :

105 mpg

Fuel Tank Capacity :

16 Litres
About the Lexmoto Isca 125 Euro 5
Always a staple of the Lexmoto range, and one of our most popular machines, the Isca is back and has been updated to meet the stringent Euro 5 emission regulations.

Designed for the urban rider, the Lexmoto Isca can deliver a full week`s commute on a single tank, thanks to its generous 16-litre capacity and incredible fuel economy of over 100 miles per gallon!

At its heart sits a frugal 124cc, single-cylinder motor producing 11.4bhp. A combined braking system enables easy, and safe operation through the city streets and the piggyback rear shock absorbers and telescopic forks provide a comfortable ride.

Incredibly easy to live with, the Lexmoto Isca provides the perfect introduction to motorcycling and independent travel that has affordability, ease of use, and economy as its core values.
This product was added at 9:11am on Tuesday 10 November 2020
Last updated: Oct 2, 2023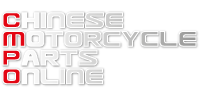 Need parts for the Lexmoto Isca 125 Euro 5?
CMPO are the offical parts supplier of all Lexmoto parts. In addition to this they also stock parts for all other brands in the Chinese Motorcycle Dealer repertoire.
Found Cheaper?
We're still better value! Don't get caught out, read why you should take care who you shop with.
Lexmoto Isca 125 Euro 5 Specifications
Performance
Max Speed :

100 kph

Max Power :

8.5kW @ 9000rpm

Max Torque :

9.4Nm @ 7500rpm
Engine and Transmission
Engine Size :

124 cc

Engine Type:

Single Cylinder, 4 Stroke, Air Cooled

Engine Brand :

156FMI-E

Bore x Stroke :

5.65 x 4.96

Compression Ratio :

9.5:1

Gear Type :

5 Speed

Clutch Type :

Hand Operated

Drive Type :

Chain

Start System :

Electric Start

Ignition Type :

EFI

Battery Voltage :

12

Battery Capacity :

9
Wheel, Suspension and Brakes
Front Tyre :

90/90-17

Rear Tyre :

130/70-17

Tyre Model :

Tubeless

Front Suspension :

Telescopic Forks

Rear Suspension :

Twin Shock Absorber

Front Brake :

Hydraulic Disc

Rear Brake :

Hydraulic Disc
Dimensions
Seat Height :

780 mm

Wheelbase :

1300 mm

Overall Length :

1920 mm

Overall Width :

760 mm

Overall Height :

1065 mm

Mass in Running Order :

128 kg

This is the weight/mass of an unladen vehicle but one which has all fluids correct and present within. It includes fuel in the tank to a minimum of 90% full.

Maximum Laden Mass :

278 kg

This is the maximum operating weight/mass of the vehicle as specified by the manufacturer including the vehicle's chassis, body, engine, engine fluids, fuel, accessories, rider, pillion and cargo.
Lexmoto Isca 125 Euro 5 Technical Data
Model Information
Exhaust Silencer Hanger

20 Nm

CAP/ABI Code

LXIS013 TD5C LYB
Engine Settings
Capacity

1224 cc

Stroke

4 Stroke

Valves per cylinder

2

Valve Train

SOHC

Engine Type

157FMI-I

Cylinders

Single

Cooling

Air Cooled
Timing and Ignition
Spark Plug

CPR6E

Spark Plug Gap

0.7-0.8mm

Spark Plug Torque

15 Nm
Fuel System
EFI System

Delphi

EFI Plug Location

Under pillion seat
Valve Clearances
Exhaust Valve (Metric)

0.10-0.14 mm

Inlet Valve (Metric)

0.08-0.10 mm
Electrical
Battery Location

Right mid panel
Drive
Drive Type

Chain
Handling and Suspension
Fork Oil Volume

200 ml per leg

Rear Suspension

Twin

Front Brake

Disc

Rear Brake

Disc

Front Suspension

Telescopic

Fork Oil Grade

10w
Tyre Pressures
Front

29 psi

Rear

32 psi
Fluids
Engine Oil Viscosity

10w/40

Brake Fluid Grade

Dot 4

Engine Oil Grade

SJ or later

Engine Oil Volume

1000 ml
Torque Settings
Front Wheel Spindle

75 Nm

Swingarm Pivot Securing Nut

90 Nm

Front brake Caliper Bolts

35 Nm

Front Brake Disc Bolts

35 Nm

Rear Shock Absorber Lower Nut/Bolt

60 Nm

Rear brake disc bolt torque

35 Nm

Rear Wheel Spindle Nut

80 Nm

Oil Filter Cover Bolts

35 Nm

Rear Shock Absorber Upper Nut/Bolt

60 Nm

Rear Wheel Sprocket Retaining Nuts

75 Nm

Oil Sump Drain Bolt

25 Nm

Lower yoke pinch bolts

35 Nm

Upper Yoke Pinch Bolts

30 Nm

Handlebar Clamp Bolts

25 Nm

Exhaust Silencer Mounting Bolt/Nut

20 Nm
Lexmoto Isca 125 Euro 5 Gallery
** Pictures are for illustration purposes only
Lexmoto Isca 125 Euro 5 360° View
Hold down the left mouse button on the bike and scroll side to side to rotate the bike.
Black
Blue
* Recommended Retail Prices
RRP Prices are inclusive of VAT and includes Full Assembly, Full Pre-delivery Inspection (PDI) and a 12-month warranty, but can vary according to different geographic locations as Dealers may incorporate more comprehensive warranty and service plans into their pricing and may also offer accessories or other services above standard sales. Prices in Scotland, NI and offshore islands may be higher. Government first registration fee and vehicle excise duty are not included and will be charged at the current rate except for the cost of the physical number plate, which will be included in the price of the vehicle.