About Us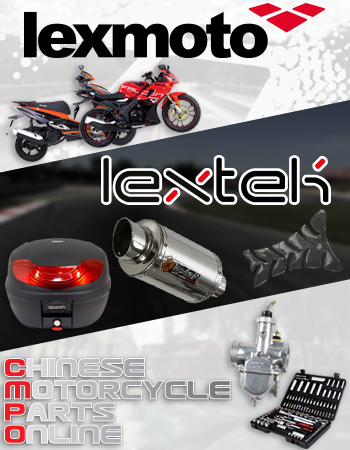 Welcome to Lexmoto Dealer Network, the largest Dealer network of Chinese scooters and Motorcycles in the UK. Based in the South West of England and operated by Llexeter Ltd, the network operates nationwide and mainland Europe. We are wholesale suppliers of the Lexmoto brand, as well as being the UK's largest parts support base for Lifan, Baotian, Sanben, Haotian, Huatian, Jinlun, Kaisar, Pioneer, Skyteam, Sukida, Skygo, Taro, Zongshen, Znen and CPI models, and many, many more. With our ever expanding network of over 170 Dealers across the UK, we have one of the largest dealer networks in our industry.

The Lexmoto Dealer Network was founded to facilitate the growth of demand for competitively priced motorcycles and scooters from dealers and retail customers alike. While retail customers wanted to view the products in person, Dealers also wanted a stable and reliable source of quality Chinese models. Having two offices in the Chinese provinces of Chongqing and Zhejiang, where most of the vehicles are made, Llexeter Ltd is in a prime position to offer this service; not only by knowing the best products on the market, but also by maintaining daily contact and a healthy working partnership with the major manufacturers. When a new model is released, we are the first to know. These manufacturers have worked closely with Japanese manufacturers so that we can offer similar quality but at a much more affordable price. From their origins of sourcing design styles from the best known brands, the manufacturers we work with have now developed their own identities and styles for aesthetic and robust vehicle design, providing vehicles that look contemporary and perform at the highest level yet.

Our bikes range from 50cc, through 125cc and up to 380cc, all of which are fully tested and carry the required EEC regulations to be valid vehicles in the EU. Our latest range, Lexmoto was launched in 2009 and, providing bikes for both beginners and more experienced riders with economical, robust and reliable vehicles that are as versatile and unique as the people who ride them. They have now also become one of the most popular brands on the Chinese market, regularly receiving rave reviews from the media.

If you fancy selling quality bikes without the Honda price tag or constraints, then our range could be for you. Twist and Go scooters, 125cc naked street bikes or a 380cc sports model. Every customer can find their future pride and joy in the Lexmoto range.

Not only do you benefit from our competitive prices and great quality products, but what also sets us apart from other Chinese motorcycle importers is our unparalleled dealer and customer support and parts base, with technical professionals on hand to give expert advice. On top of this we offer up to 2 years parts and labour warranty for our customer's peace of mind. We're happy to offer our dealers and partners with many great benefits, including a Stocking Plan Scheme, regular offers, loyalty discounts and online registration through the DVLA's RaV scheme. Lexmoto's in-house media team provide brand communication, both in print and online and have a wealth of material, from posters to banners to professional brand photographs, all available to dealers. We also provide the reliability that dealers need for maintaining stock levels, shipping a constant supply of vehicles direct from the manufacturers every month, as well as storing enough products in our recently expanded 120,000+ sq. foot warehouse to easily cater to demand.

You should never be stuck for parts again with www.chinesemotorcyclepartsonline.co.uk. Easily the most comprehensive parts site for all Chinese scooters and Motorcycles, the website not only covers vehicles in the Chinese Motorcycle Dealer repertoire, but also many models not in our range or that have been discontinued by other suppliers, cataloguing thousands of parts to be purchased with ease using its simple front-end ordering system.

We are always looking for new dealers and welcome all enquiries from individuals or existing businesses. With all the mentioned support and more besides, such as a free delivery scheme and large quantity discount, there are fantastic opportunities available. We know that the only way for us to stay competitive is to make sure that our dealers make money, and that retail customers get the best from their products. Therefore, we will do our very best to support you.
Great parts backup for our products

Ordering your parts online couldn't be easier with www.chinesemotorcyclepartsonline.co.uk!
At CMPO we list over 70,000 parts in our catalogue and our stock in warehoused in the UK, with over 120,000sq foot of storage to cover over 300 models from over 100 different manufacturers. Not only that, we constantly run stock and compatibility checks to make sure you are getting the best service, and our secure and verified ordering and dispatch system means you can have your parts the very next day.
Ordering online is quick, easy and secure, with constant improvements to our site to make your shopping experience even better. We also offer fairing maps to source your panels, and a parts identification service for any part not listed on our website so we can try and source it for you!
All this and a no quibble 30-day return policy on items purchased by retail customers make CMPO the best place to source your Chinese Motorcycle and Scooters parts!