Trying to import motorcycles isn't easy!
Are you tired of the hassle? We can make it easy for you.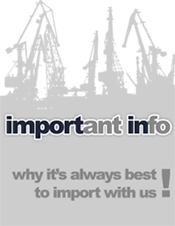 Importing directly can seem like a good idea initially, but you may soon find the costs of going it alone begin to rise when you consider the complex logistics of getting motorbikes from a factory in China to your storage facility. A reputable UK based Company can seem like a godsend when problems arise. Don't let it all get on top of you; choose Llexeter Ltd. to shoulder the burden.

At Lexmoto Dealer Network we offer convenience and our costs are just as competitive as importing directly, with the added benefit of our expertise and your peace of mind.

As importers ourselves, we appreciate how difficult it can be trying to obtain your stock from overseas and from companies that you probably will never meet face to face. However, we have spent years building up a strong relationship with all of our manufacturers, and because we have offices in China, close to the manufacturers, we have found the most reliable product sources in our market.
In addition to saving you the time of sourcing a manufacturer, we also offer further advantages:
We talk the talk

Language barriers are no longer a problem. Let us handle the conversations, paperwork and finding the best companies with the most competitive prices on your behalf.

Quick turnaround

Not only would your money be tied up in stock for at least 50 days when you buy direct from the factory, you would also have to wait for your stock to arrive, instead of using that time to make a profit. Using Lexmoto Dealer Network your stock will be cleared as soon as payment is received. Then we dispatch from our UK warehouse directly to you, usually in 1-3 working days. That's less than a tenth of the time.

Protect your business and your money

Should you be unfortunate enough to buy from a less reputable company thousands of miles away, they can disappear with your money leaving little that you can do about it. Even when you do buy from a reputable supplier, you would be very lucky to be offered a warranty, they view you as no more than another small customer. Any warranty you do get could be a "return to manufacturer" warranty, costing you a fortune to send it back, and only once they have received a deposit for your next order, emptying your wallet even further. Let us take the risk so you don't have to, giving you added support such as damage-on-delivery parts replacement for any cosmetic damage that may happen during transit.

We walk the walk

We are a UK based operation, firmly established as one of the largest companies in our industry, so you know your money is safe. Because we import for you, this spares you the cost of insurance and legal responsibilities that going-it alone demands. In addition, we offer warranty as standard, and because we are in the UK, any warranty issues are dealt with quickly, efficiently, and with less cost to you.

Tailored to the market

All our products are tested and certified to meet the applicable laws and standards of the UK market, saving you the cost and hassle of ensuring your products are safe and sellable. Our relationship with each manufacturer means that we can suggest the small changes that make a big difference to the products, differences that are extensively researched in the marketplace using feedback from our dealers.

Give the best to your customers

We support our products with interactive websites and Point Of Sale, presenting you with multiple ways to promote your products. We provide up to 12 month warranty and UK-based parts backup support, meaning you won't be left on your own if the worst happens, nor will you be kept waiting for your replacement parts. To help you get the vehicle up and running as soon as possible we also run the V55/1 and AFRL scheme and provide you with easy access to all the necessary documentation, saving you time and hassle.

Tailored to suit you

If you are a small-to-medium business, chances are that you won't have the storage to cope with the minimum order quantity of most factories. Paying for storage is yet another hidden additional cost and should your stock become damaged then there's little you can do. Once established as a dealer you can order as little as one unit at a time, or take advantage of our bespoke delivery prices, meaning that both transport and storage are perfectly manageable.
Call us today on 0844 567 8887 to see just how competitive our prices really are.