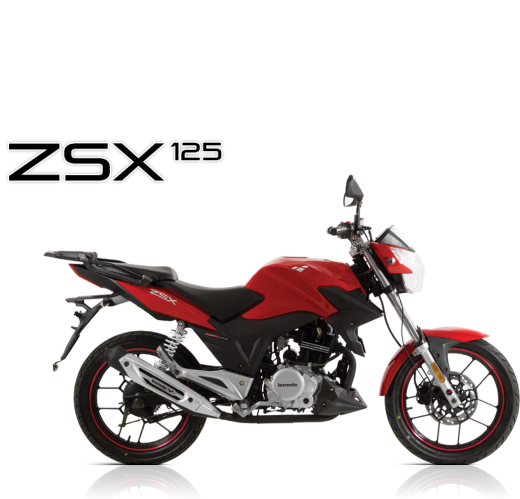 This product is discontinued and no longer available to order
Lexmoto ZSX 125 Overview
Other Information
Model Code :

ZS125-48A

Fuel Tank Capacity :

18 Litres
About the Lexmoto ZSX 125
The ZSX is Lexmotos Flagship model. Taking aim at its Japanese counterparts, the model aims to deliver the best quality that China has to offer to exceed its rivals despite being a significantly lower price. The ZSX displays sharp styling and a big road presence whilst providing performance and handling to prove its appeal isn�t only skin deep. Incorporating a digital display and convenient storage that no other brand can replicate the ZSX includes many features that no other brand can come close to replicating.
This product was added at 12:48pm on Thursday 13 September 2012
Last updated: Jul 22, 2018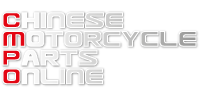 Need parts for the Lexmoto ZSX 125?
CMPO are the offical parts supplier of all Lexmoto parts. In addition to this they also stock parts for all other brands in the Chinese Motorcycle Dealer repertoire.
Found Cheaper?
We're still better value! Don't get caught out, read why you should take care who you shop with.
This product is discontinued and no longer available to order
Lexmoto ZSX 125 Specifications
Performance
Max Speed :

110 kph

Max Power :

7.8kW @ 8500rpm

Max Torque :

9.2Nm @ 7000 rpm
Engine and Transmission
Engine Size :

125 cc

Engine Type:

Single Cylinder, 4 Stroke, Air Cooled

Engine Brand :

158FMI-B

Bore x Stroke :

58.5 x 46.5

Compression Ratio :

9.2:1

Gear Type :

1 Down - 4 Up

Clutch Type :

Hand Operated

Drive Type :

Chain

Start System :

Electric Start

Ignition Type :

CDI

Battery Voltage :

12
Wheel, Suspension and Brakes
Front Tyre :

90/90-17

Rear Tyre :

110/80-17

Tyre Brand :

CST

Tyre Model :

Tubeless

Front Suspension :

Telescopic Forks

Rear Suspension :

Twin Shock Absorber

Front Brake :

Hydraulic Disc

Rear Brake :

Drum
Dimensions
Seat Height :

780 mm

Wheelbase :

1330 mm

Ground Clearance :

180 mm

Overall Length :

2040 mm

Overall Width :

755 mm

Overall Height :

1045 mm

Maximum Laden Mass :

290 kg

This is the maximum operating weight/mass of the vehicle as specified by the manufacturer including the vehicle's chassis, body, engine, engine fluids, fuel, accessories, rider, pillion and cargo.
This product is discontinued and no longer available to order
Lexmoto ZSX 125 Technical Data
Model Information
Speedo Type

Digital

Odometer Reading

Dual

Engine Type

158FMI-B

Capacity

124 cc

Cylinders

Single

Stroke

4 Stroke

Valves per cylinder

2

Cooling

Air Cooled

OHC or OHV

OHC

Parking options

Centre and Side Stand
Valve Clearances
Exhaust Valve (Metric)

0.06 mm

Inlet Valve (Metric)

0.04 mm
Fuel System
Main Jet

95
Timing and Ignition
Static Timing

15°±2° before TDC

Ignition

C.D.I
Power Output
Rated Max. Power

7.5 kW

@RPM

8500 min-1
Handling and Suspension
Fork Oil Volume

320 ml per leg
Fluids
Brake Fluid Grade

DOT4

Engine Oil Grade

SAE 15W-40
Engine Settings
Max RPM

8500 rpm

Idle Speed

1400 min-1

Bore x Stroke

58.5 x 46.5mm

Compression Ratio

9.2:1

Min. Compression

100

Norm. Compression

135 psi
Tyre Pressures
Front

32 psi

Rear

36 psi
Drive
Pitch

428

Front Sprocket

15 T

Rear Sprocket

44 T
This product is discontinued and no longer available to order
Lexmoto ZSX 125 Gallery
** Pictures are for illustration purposes only
This product is discontinued and no longer available to order
Lexmoto ZSX 125 360° View
This product is discontinued and no longer available to order
Lexmoto ZSX 125 Media

Small bikes for big adventures

Are chinese bikes there yet?
Wallpaper
YouTube Videos
Introducing the New Lexmoto ZSX 125
Uploaded: Apr 11, 2013
Lexmoto ZSX 125 Introduction Video
Uploaded: Apr 5, 2013
This product is discontinued and no longer available to order
Lexmoto ZSX 125 Reviews
Brilliant bike. Great quality for an awesome price.

Submitted Jul 10, 2015
by Dave Buchan Devon
Excellent bike.
highly recommended to anyone whether they had had previous experience on a geared bike or not.

The Lexmoto ZSX was my first geared bike and it is brilliant to learn gears on and such good handling and reliability never had any problem with mine at all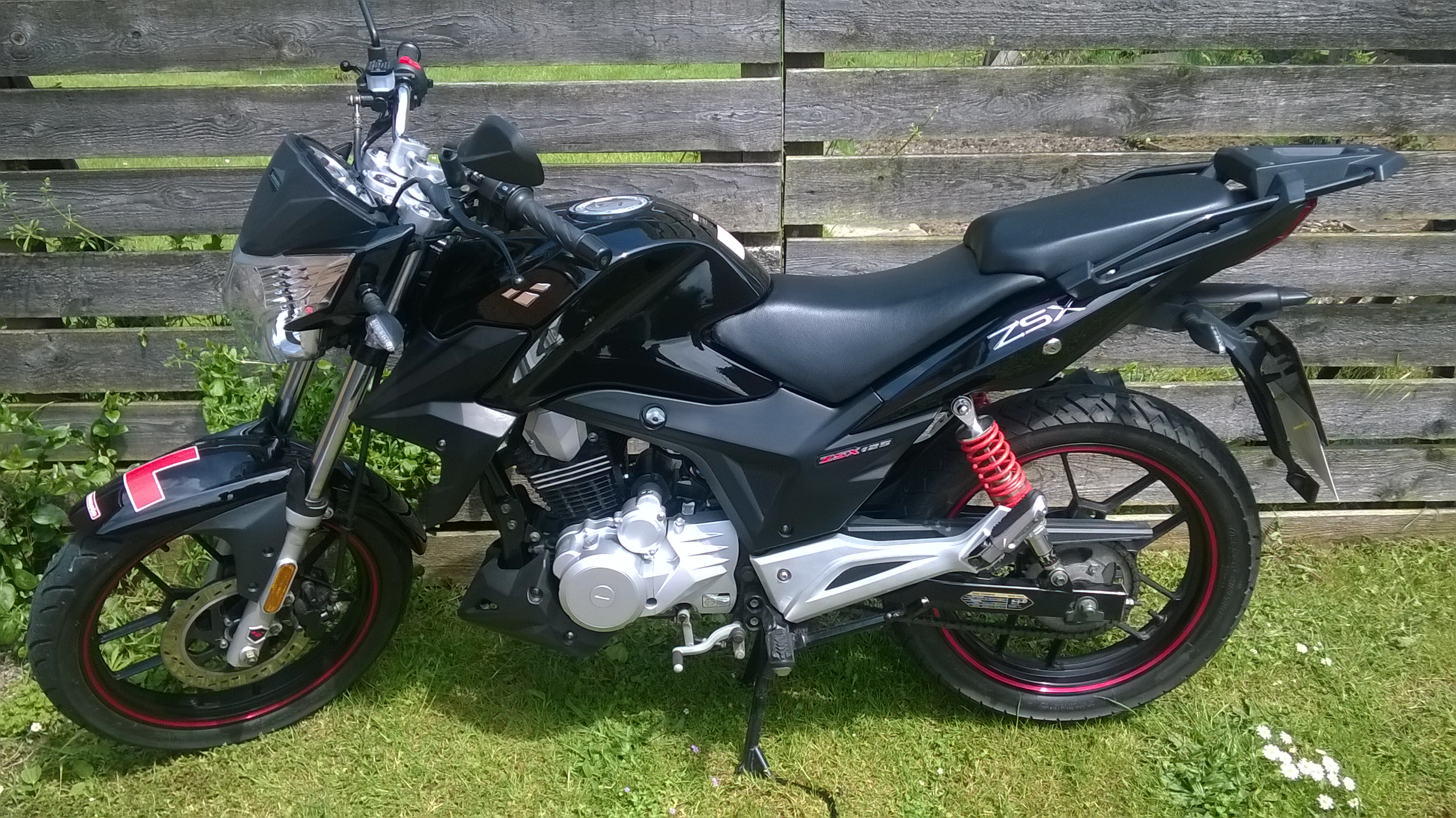 Submitted Jun 18, 2014
by mathew hewson Lincolnshire
The Lexmoto ZSX is a stylish bike which obviously takes inspiration from another popular learner legal bike, the Honda CBF 125. For years the Japanese bikes have been considered to be clearly the best motorbikes available on the market and the Chinese bikes inferior. However I can honestly say that this distinction is no longer so obvious, with the Chinese motorbikes certainly catching up with the Japanese motorbikes.



Aesthetics (10/10)

The Lexmoto ZSX certainly looks the part. The bike itself looks fairly aggressive, the panels ending in sharp points which give the bike character. The tank itself is a black gloss which when polished has a fantastic finish. The side panels are black matte which although sounds tacky, works well with the black gloss paint. The ZSX wheels are lined with red metal on the rims which makes the bike to stand out in a positive way against the bodywork. On a black bike it helps give the bike some extra looks by adding more colour, and if it's on the red bike it helps blend in with the rest of the bike. Overall the bike is beautiful in terms of looks, and you will be the envy of your friends.



Seat and comfort (8/10)

The seat on the ZSX is in two parts, the main seat which is for the rider themselves and the rear seat which is for the passenger. On short journeys, and medium length journeys the seat is perfectly capable of holding it's own and you will have a comfortable ride for the journey while sitting upright. However at long distance journeys, such as two hours or more you will find that after this length of time your rear and back of your legs will start to go numb. However this is the case with most motorbikes and is not a major flaw of the ZSX. As somebody who uses this bike for visiting home while I am at University, which for me is a 30 minute ride, it is not a problem whatsoever. The seat on the ZSX features under seat storage which is a rarity among motorbikes which is useful although it does not have much space. I can store my mobile phone, my wallet, a tool kit and a few other random bits and bobs under the seat. Overall the seat is comfortable for most journeys, and there is no problem unless you are regularly riding for over two hours and the under seat storage is a welcome luxury.



Tyres (7/10)

The tires on the ZSX are fairly big for a 125cc, much bigger than the Arrow and the Vixen. They provide adequate grip in most weather. I have rode the bike in perfect weather, in light rain, regular rain and on surfaces covered in gravel and have had no problem with surface grip. I can only see the grip being a problem in extremely heavy rain where it can become dangerous and in snowy and icy conditions. However this is fair for most motorbikes and is even a problem in cars. The tyres do not contain an inner tube like some motorbike tyres, which means there is only one layer to puncture before the tyre becomes unusable - whereas an inner tube would provide a second layer and thus extra protection. Overall the tyres have adequate grip for all but the extreme types of weather, but the lack of inner tube is disappointing.



Handling (10/10)

Simply put, this bike is amazing to ride. I cannot put in words how much fun this bike is, it's so easy to ride! The bike is fantastic in corners, you will have no problem counter-steering even into the sharpest of corners, the ZSX will not let you down. I have been into some very sharp corners and have leaned into some extreme bends and I feel completely safe on the bike as it feels sturdy and does not wobble. Overall, the bike handles amazingly well and I cannot fault it whatsoever.



Brakes (9/10)

The ZSX features a disc brake for the front wheel and a drum brake for the rear wheel. Ideally the break for the rear wheel would also be a disc brake but now I'm just nitpicking. I am confident with the brakes on the ZSX. It has no problems slowing down smoothly, and even in emergency stops which I have had to perform on one occasion, still slow you down quickly and smoothly. The brakes on the ZSX allowed me to smoothly brake from 50mph to a complete stand still in about five seconds. Overall, the bikes brakes function very well for everyday use, and even in emergency stops they will not let you down.



Gears (9/10)

The ZSX uses one down four up gears and is very responsive. I have had no problems going through the gears smoothly and quickly. The only thing I do have to say, and it is nitpicking, is that going from 1st gear into 2nd gear, you can accidentally go into neutral if you do not apply enough force, however most motorbikes have this problem so it is not just the ZSX. Overall the gears operate extremely well and function smoothly.



Dashboard (10/10)

In my opinion the dashboard on the ZSX is easily the best for a 125cc on the market, even better than the Yamaha YZF R125. The ZSX is a combination between the more modern digital and the more traditional analogue which although unique, works very well. It works better than an all digital dashboard, and better than an all analogue dashboard. The digital half of the dashboard shows the speed the rider is travelling and also has a fuel gauge along with a gear indicator which is very useful indeed. The analogue half shows the revs. The top of the dashboard has the neutral light, the indicator lights, the fuel light and also a light for full beam. The dashboard is easily seen in the light, and in darkness a backlight lights up automatically which allows you to see both halves of the dashboard clearly in the dark. Overall the dashboard looks fantastic and in use works very well.



Lights (8/10)

The lights on the ZSX work very well. It does not use bulbs but instead uses LED's which light up brighter and whiter than regular bulbs which is excellent when riding in the dark. Whilst riding in darkness half beam worked perfectly allowing me to see ahead of myself without blinding oncoming driver. On full beam the lights still work very well allowing me to see very far ahead, however they do seem to be dimmer in the middle of the beam, although this is not a problem as you are looking far ahead when riding. Overall, the lights work very well and I am confident riding on ZSX in darkness.



Throttle and clutch (8/10)

For a learner legal bike it sure does have some decent speed. The ZSX can quickly accelerate, easily going from stationary to 30mph in about five seconds. This is by no means a super bike but for a learner legal bike it's great. The throttle and clutch are very responsive, allowing the rider to make good use of clutch control at slow speeds which is useful when performing a turn in the road and stopping and starting smoothly. Overall the bikes throttle and clutch do their job to a high standard and are very responsive.



Conclusion (9/10)

In conclusion, the ZSX is a great leap for Chinese motorbikes, allowing them to become even more competitive in the motorbike industry. If you are considering a Lexmoto ZSX or a Honda CBF 125, I can honestly say pick the ZSX. The ZSX is priced at £1599 with the average Honda CBF being almost £1000 more expensive at £2500! The ZSX is easily on par with the CBF 125, and it will not disappoint you! The Lexmoto Dealership I purchased the motorbike from includes a five year guarantee parts and three years labour included in the price of the bike with no extra charge. For five years guarantee and three years labour, it is obvious that the dealer has confidence in the motorbike.



If you are considering purchasing the Lexmoto ZSX, you will not be disappointed if you buy the bike!



One word to sum up the Lexmoto ZSX? Fantastic!

Submitted Sep 3, 2013
by Clint Shaun Mason
This product is discontinued and no longer available to order
Lexmoto ZSX 125 Downloads
Created: Sep 26, 2013
Size: 575 KB
Lexmoto ZSX 125 User Manuals
* Recommended Retail Prices
RRP Prices are inclusive of VAT and includes Full Assembly, Full Pre-delivery Inspection (PDI) and a 12-month warranty, but can vary according to different geographic locations as Dealers may incorporate more comprehensive warranty and service plans into their pricing and may also offer accessories or other services above standard sales. Prices in Scotland, NI and offshore islands may be higher. Government first registration fee and vehicle excise duty are not included and will be charged at the current rate except for the cost of the physical number plate, which will be included in the price of the vehicle.