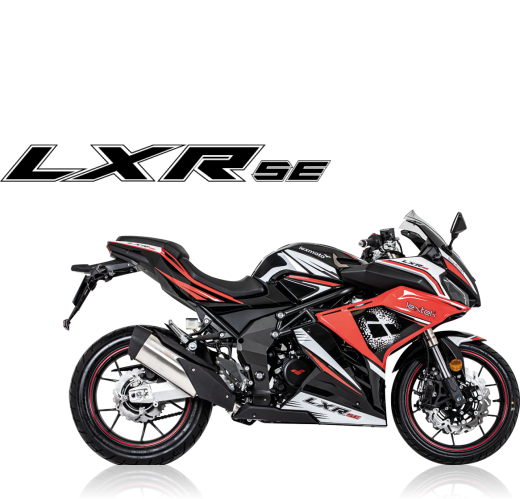 SY125-10-SE-E5
125cc 4 Stroke

Lexmoto LXR SE 125 Euro 5 Overview
Other Information
Model Code :

SY125-10-SE-E5

Fuel Tank Capacity :

13.5 Litres
About the Lexmoto LXR SE 125 Euro 5
A proven class leader that`s dominated the sales charts, the LXR SE gets a full refresh for 2021. Updated to meet Euro 5 standards, at its heart sits an all-new 125cc single cylinder engine, offering better performance throughout the entire rev range, a better pick up on the throttle and a smoother ride. Performance isn`t the only headline figure though; a well-rounded chassis gives a sporting, yet comfortable experience. This is further complemented by a newly designed rear shock linkage, 37mm upside down forks and lightweight aluminum swingarm to give the LXR SE class leading handling. Upfront, the full colour TFT display unit adds a touch not seen before in the supersport 125 sector, and the aggressive LED headlight unit brings a distinctive look to the SE. Stopping comes courtesy of a twin petal disc brakes up front, with two pot calipers boasting yet another first in class. Our flagship model has just upped the ante considerably in the 125cc market, why not see what all the fuss is about?
This product was added at 4:18pm on Thursday 15 October 2020
Last updated: Jan 29, 2023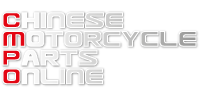 Need parts for the Lexmoto LXR SE 125 Euro 5?
CMPO are the offical parts supplier of all Lexmoto parts. In addition to this they also stock parts for all other brands in the Chinese Motorcycle Dealer repertoire.
Found Cheaper?
We're still better value! Don't get caught out, read why you should take care who you shop with.
Lexmoto LXR SE 125 Euro 5 Specifications
Performance
Max Speed :

110 kph

Max Power :

9.3kW @9000

Max Torque :

11.0Nm @6750
Engine and Transmission
Engine Size :

125 cc

Engine Type:

Single Cylinder, 4 Stroke, Water Cooled

Engine Brand :

158MI-2P

Compression Ratio :

12:1

Gear Type :

6 Speed

Clutch Type :

Hand Operated

Drive Type :

Chain

Start System :

Electric Start

Ignition Type :

EFI

Battery Voltage :

12

Battery Capacity :

9
Wheel, Suspension and Brakes
Front Tyre :

110/70-17

Rear Tyre :

150/70-17

Tyre Brand :

CST

Tyre Model :

Tubeless

Front Suspension :

Upside Down Forks

Rear Suspension :

Monoshock

Front Brake :

Hydraulic Disc

Rear Brake :

Hydraulic Disc
Dimensions
Seat Height :

820 mm

Wheelbase :

1420 mm

Overall Length :

2050 mm

Overall Width :

720 mm

Overall Height :

1155 mm

Mass in Running Order :

167 kg

This is the weight/mass of an unladen vehicle but one which has all fluids correct and present within. It includes fuel in the tank to a minimum of 90% full.

Maximum Laden Mass :

317 kg

This is the maximum operating weight/mass of the vehicle as specified by the manufacturer including the vehicle's chassis, body, engine, engine fluids, fuel, accessories, rider, pillion and cargo.
Lexmoto LXR SE 125 Euro 5 Technical Data
Model Information
CAP/ABI Code

LXXR013SETO6C CYB
Power Output
Max. Power

9.3 kW @ RPM

Max. Torque

11.0 Nm @ RPM

Max. Speed

110 Km/h
Engine Settings
Capacity

125 cc

Compression Ratio

12:1

Stroke

4 Stroke

Valves per cylinder

4

Valve Train

DOHC

Engine Type

158MI-2P

Cylinders

Single

Cooling

Liquid Cooled

Idle Speed

1450 min-1
Timing and Ignition
Spark Plug

CR9E

Spark Plug Gap

0.6-0.8mm

HT Coil Primary Resistance

0.5Ω

HT Coil Secondary Resistance

6.75KΩ

Spark Plug Torque

12 Nm
Fuel System
EFI System

Delphi

EFI Plug Location

Under pillion seat
Valve Clearances
Exhaust Valve (Metric)

0.15-0.20 mm

Inlet Valve (Metric)

0.10-0.15 mm
Electrical
Battery Location

Right mid panel
Drive
Drive Type

Chain
Handling and Suspension
Fork Oil Volume

310 ml per leg

Rear Suspension

Mono

Front Pinch Bolt

13Nm

Front Brake

Disc

Rear Brake

Disc

Front Suspension

USD

Fork Oil Grade

10w
Tyre Pressures
Front

29 psi

Rear

32 psi
Fluids
Engine Oil Viscosity

10w/40

Brake Fluid Grade

Dot 4

Engine Oil Grade

SJ or later

Engine Oil Volume

900-1000 ml
Torque Settings
Front Wheel Spindle

63 Nm

Swingarm Pivot Securing Nut

60 Nm

Front brake Caliper Bolts

40 Nm

Front Brake Disc Bolts

35 Nm

Rear Shock Absorber Lower Nut/Bolt

60 Nm

Rear brake disc bolt torque

30 Nm

Rear Wheel Spindle Nut

80 Nm

Oil Filter Cover Bolts

8 Nm

Rear Shock Absorber Upper Nut/Bolt

50 Nm

Rear Wheel Sprocket Retaining Nuts

50 Nm

Oil Sump Drain Bolt

20 Nm

Front Wheel Spindle Pinch Bolt

13 Nm

Lower yoke pinch bolts

20 Nm

Riders Footrest Bolt Torque

30 Nm

Upper Yoke Pinch Bolts

15 Nm

Handlebar Clamp Bolts

25 Nm

Exhaust Silencer Mounting Bolt/Nut

45 Nm
Lexmoto LXR SE 125 Euro 5 Gallery
** Pictures are for illustration purposes only
Lexmoto LXR SE 125 Euro 5 360° View
Hold down the left mouse button on the bike and scroll side to side to rotate the bike.
* Recommended Retail Prices
RRP Prices are inclusive of VAT and includes Full Assembly, Full Pre-delivery Inspection (PDI) and a 24-month warranty, but can vary according to different geographic locations as Dealers may incorporate more comprehensive warranty and service plans into their pricing and may also offer accessories or other services above standard sales. Prices in Scotland, NI and offshore islands may be higher. Government first registration fee and vehicle excise duty are not included and will be charged at the current rate except for the cost of the physical number plate, which will be included in the price of the vehicle.