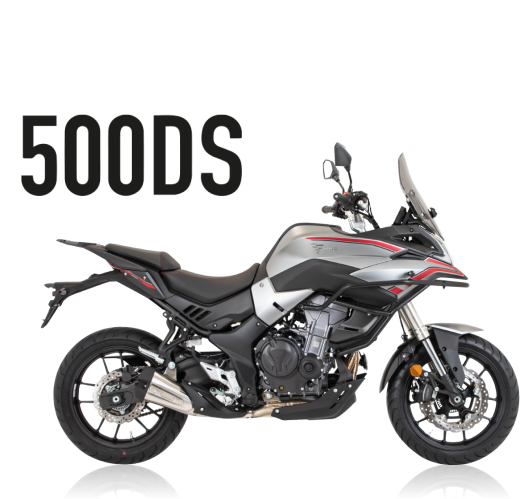 LX500-J-E5
471cc 4 Stroke

Voge 500DS Euro 5 Overview
Other Information
Model Code :

LX500-J-E5

Fuel Consumption :

80 mpg

Fuel Tank Capacity :

16.5 Litres
About the Voge 500DS Euro 5
Dynamic style and performance gives riders the opportunity to enjoy a thrilling experience on this brand new Adventure Tourer. Powered by its mighty liquid cooled KE500, 4 stroke twin cylinder engine with 471cc. The 500DS is a sleek and agile powerhouse ready to prove itself in the UK market on and off the road. Riders will be able to experience the best of a fantastic motorcycle while exploring the world around them and beyond with the freedom and comfort it offers. Nissin ABS brake technology, a Bosch EFI Fuel Injection system and a TFT display, this bike is an incredible opportunity for riders of all skill levels, especially as it`s A2 compliant at 46.2hp. Not only that, but the motorcycle comes with all-round KYB suspension and Pirelli Angel tyres as standard.
This product was added at 6:38pm on Friday 18 September 2020
Last updated: Oct 2, 2023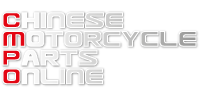 Need parts for the Voge 500DS Euro 5?
CMPO are the offical parts supplier of all Lexmoto parts. In addition to this they also stock parts for all other brands in the Chinese Motorcycle Dealer repertoire.
Found Cheaper?
We're still better value! Don't get caught out, read why you should take care who you shop with.
Voge 500DS Euro 5 Specifications
Performance
Max Power :

34.5kW
Engine and Transmission
Engine Size :

471 cc

Engine Type:

Twin Cylinder, 4 Stroke, Water Cooled

Engine Brand :

Loncin

Gear Type :

6 Speed

Clutch Type :

Hand Operated

Drive Type :

Chain

Start System :

Electric Start

Ignition Type :

EFI

Battery Voltage :

12

Battery Capacity :

10
Wheel, Suspension and Brakes
Front Tyre :

120/70-17

Rear Tyre :

160/60-17

Tyre Brand :

Pirelli

Tyre Model :

Tubeless

Front Suspension :

Inverted Forks

Rear Suspension :

Monoshock

Front Brake :

Hydraulic Disc

Rear Brake :

Hydraulic Disc
Dimensions
Wheelbase :

1445 mm

Overall Length :

2115 mm

Overall Width :

850 mm

Overall Height :

1355 mm

Mass in Running Order :

205 kg

This is the weight/mass of an unladen vehicle but one which has all fluids correct and present within. It includes fuel in the tank to a minimum of 90% full.

Maximum Laden Mass :

348 kg

This is the maximum operating weight/mass of the vehicle as specified by the manufacturer including the vehicle's chassis, body, engine, engine fluids, fuel, accessories, rider, pillion and cargo.
Voge 500DS Euro 5 Technical Data
Model Information
Length

2115 mm

Seat Height

900 mm

Fuel Tank Capacity

16.5 l

CAP/ABI Code

VGDS050 DU6C EYB

Fuel Consumption

56 mpg

Crate Length

2230 mm

Width

850 mm

Mass in Running Order

205 kg

Unladen Weight

200 kg

Max. Laden Mass

348 kg

Wheelbase

1445 mm

Crate Height

1300 mm

Height

1355 mm

Crate Weight

225 kg

Crate Width

730 mm
Power Output
Max. Power

34.5 @ 8500 kW @ RPM

Max. Speed

160 Km/h

Max. Speed

99 Mph
Engine Settings
Capacity

471 cc

Compression Ratio

10.7 : 1

Cylinders

Parallel-Twin

Cooling

Liquid Cooled

Idle Speed

1300 min-1

Max RPM

10000 rpm
Timing and Ignition
Spark Plug

CPR8EA-9

Spark Plug Gap

0.8-0.9mm
Valve Clearances
Exhaust Valve (Metric)

0.24 -0.30mm mm

Inlet Valve (Metric)

0.13-0.19mm mm
Handling and Suspension
Rear Suspension

Mono

Front Disc Size

298 mm

Front Brake

Disc

Rear Disc Size

240 mm

Rear Brake

Disc

Front Suspension

USD

Advanced Braking System

Anti-Lock Braking
Tyre Pressures
Front

33 psi

Rear

33 psi

Front Tyre

120/70-17

Rear Tyre

160/60-17

Tyre Brand

Pirelli

Tyre Type

Tubeless

Front Tyre Pressure With Pillion

36 psi

Rear Tyre Pressure With Pillion

36 psi
Fluids
Engine Oil Viscosity

10w/40

Engine Oil Grade

SG

Engine Oil Volume

2700-3200 ml

Anti-Freeze

1.4 + 120ml header tank

Anti-Freeze Ratio

1:1
Torque Settings
Front Wheel Spindle

55 Nm

Front brake Caliper Bolts

25 Nm

Rear Wheel Spindle Nut

95 Nm

Oil Sump Drain Bolt

28 Nm
Voge 500DS Euro 5 Gallery
** Pictures are for illustration purposes only
Voge 500DS Euro 5 360° View
Hold down the left mouse button on the bike and scroll side to side to rotate the bike.
* Recommended Retail Prices
RRP Prices are inclusive of VAT and includes Full Assembly, Full Pre-delivery Inspection (PDI) and a 12-month warranty, but can vary according to different geographic locations as Dealers may incorporate more comprehensive warranty and service plans into their pricing and may also offer accessories or other services above standard sales. Prices in Scotland, NI and offshore islands may be higher. Government first registration fee and vehicle excise duty are not included and will be charged at the current rate except for the cost of the physical number plate, which will be included in the price of the vehicle.