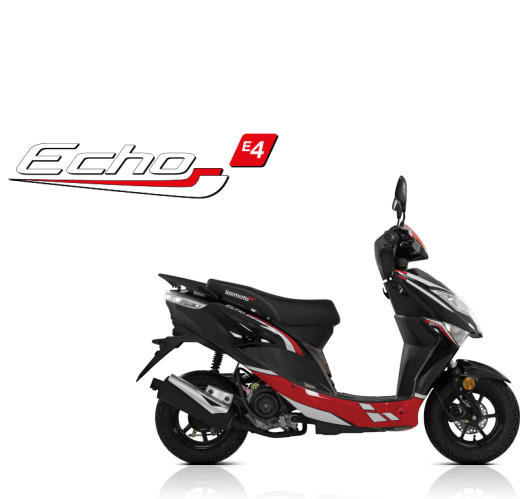 LJ50QT-5L
50cc 4 Stroke



Lexmoto Echo 50 E4 Overview
Other Information
Model Code :

LJ50QT-5L

Fuel Tank Capacity :

5.8 Litres
About the Lexmoto Echo 50 E4
If you are looking for a Top value 50cc Moped then look no further than the Lexmoto Echo. With a smooth and reliable 50cc motor that provides a steady and consistent performance, the Echo is a perfect bike for both those that are new to riding and experienced scooterists alike! With a sleek modern design and practical features such as under-seat storage and easy-to-use controls, the Echo encompasses a great package to get many on to two wheels. With agile handling complimented by telescopic suspension and 10" wheels makes the Lexmoto Echo ideal for those looking to use the bike for commuting through even the most challenging of urban commutes! With an optional luggage rack available, storage can be extended further through additions of luggage boxes to maximise storage space.
This product was added at 5:12pm on Thursday 02 November 2017
Last updated: Apr 22, 2021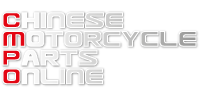 Need parts for the Lexmoto Echo 50 E4?
CMPO are the offical parts supplier of all Lexmoto parts. In addition to this they also stock parts for all other brands in the Chinese Motorcycle Dealer repertoire.
Found Cheaper?
We're still better value! Don't get caught out, read why you should take care who you shop with.
Lexmoto Echo 50 E4 Specifications
Performance
Max Speed :

45 kph

Max Power :

1.8kw @ 7000
Engine and Transmission
Engine Size :

50 cc

Engine Type:

Single Cylinder, 4 Stroke, Air Cooled

Engine Brand :

LJ139QMB

Gear Type :

Twist and Go

Drive Type :

Belt

Start System :

Electric / Kick Start

Ignition Type :

EFI
Wheel, Suspension and Brakes
Front Tyre :

3.5-10

Rear Tyre :

3.5-10

Tyre Model :

Tubeless

Front Suspension :

Telescopic Forks

Rear Suspension :

Single Shock Absorber

Front Brake :

Hydraulic Disc

Rear Brake :

Drum
Dimensions
Wheelbase :

1210 mm

Overall Length :

1725 mm

Overall Width :

645 mm

Overall Height :

1065 mm

Mass in Running Order :

83 kg

This is the weight/mass of an unladen vehicle but one which has all fluids correct and present within. It includes fuel in the tank to a minimum of 90% full.

Maximum Laden Mass :

233 kg

This is the maximum operating weight/mass of the vehicle as specified by the manufacturer including the vehicle's chassis, body, engine, engine fluids, fuel, accessories, rider, pillion and cargo.
Lexmoto Echo 50 E4 Technical Data
Model Information
Minimum Licence Required

CBT or A1 (UK Entitlement)

Build Difficulty

2 - Straight Forward (Out of 5)

Fuel Tank Capacity

5.8 l

CAP/ABI Code

LXEC005E4MO A EVB

Shipping State

SKD - Semi Knocked Down

Speedo Type

Analogue

Parking options

Centre and Side Stand

Odometer Reading

Kilometers
Engine Settings
Stroke

4 Stroke

Cylinders

Single

Cooling

Air Cooled
Fuel System
EFI Plug Location

Diagnosed by flash codes please consult technical guides.
Valve Clearances
Exhaust Valve (Metric)

0.04-0.07 mm

Inlet Valve (Metric)

0.02-0.05 mm
Tyre Pressures
Front

29 psi

Rear

32 psi
Fluids
Engine Oil Volume

700 ml
Lexmoto Echo 50 E4 Gallery
** Pictures are for illustration purposes only
Lexmoto Echo 50 E4 360° View
Hold down the left mouse button on the bike and scroll side to side to rotate the bike.
Black/Red
White Blue
* Recommended Retail Prices
RRP Prices are inclusive of VAT and includes Full Assembly, Full Pre-delivery Inspection (PDI) and a 12-month warranty, but can vary according to different geographic locations as Dealers may incorporate more comprehensive warranty and service plans into their pricing and may also offer accessories or other services above standard sales. Prices in Scotland, NI and offshore islands may be higher. Government first registration fee and vehicle excise duty are not included and will be charged at the current rate except for the cost of the physical number plate, which will be included in the price of the vehicle.