RRP

£1,399.99*




TRADE

CALL
Lexmoto XTR S 125 Overview
Other Information
Model Code :

KS125-24

Fuel Tank Capacity :

11 Litres
About the Lexmoto XTR S 125
The Lexmoto XTRS entered the range trying to fill the shoes of the fantastic Lexmoto XTR. Using our experience we added the CBB balance shaft engine to the model to smooth the riding experience for the rider. It has been unbeatable in terms of value ever since. Featuring a sleek desirable design and the efficient and reliable 4t motor the XTRS offers you so much bike for so little cost. Having bested even premium priced opposition in UK magazine group tests the XTRS continues to build a loyal following.
This product was added at 5:57pm on Tuesday 03 November 2009
Last updated: Mar 21, 2019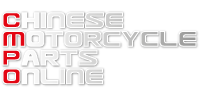 Need parts for the Lexmoto XTR S 125?
CMPO are the offical parts supplier of all Lexmoto parts. In addition to this they also stock parts for all other brands in the Chinese Motorcycle Dealer repertoire.
Found Cheaper?
We're still better value! Don't get caught out, read why you should take care who you shop with.
Lexmoto XTR S 125 Specifications
Performance
Max Speed :

100 kph

Max Power :

8.5Kw @ 9000rpm
Engine and Transmission
Engine Size :

124 cc

Engine Type:

Single Cylinder, 4 Stroke, Air Cooled

Engine Brand :

156FMI

Gear Type :

1 Down - 4 Up

Clutch Type :

Hand Operated

Drive Type :

Chain

Start System :

Electric / Kick Start

Ignition Type :

CDI
Wheel, Suspension and Brakes
Front Tyre :

70/90-17

Rear Tyre :

100/80-17

Front Suspension :

Telescopic Forks

Rear Suspension :

Twin Shock Absorber

Front Brake :

Disc

Rear Brake :

Disc
Dimensions
Seat Height :

860 mm

Wheelbase :

1320 mm

Overall Length :

1925 mm

Overall Width :

680 mm

Overall Height :

1156 mm

Mass in Running Order :

125 kg

This is the weight/mass of an unladen vehicle but one which has all fluids correct and present within. It includes fuel in the tank to a minimum of 90% full.

Maximum Laden Mass :

275 kg

This is the maximum operating weight/mass of the vehicle as specified by the manufacturer including the vehicle's chassis, body, engine, engine fluids, fuel, accessories, rider, pillion and cargo.
Lexmoto XTR S 125 Technical Data
Model Information
Speedo Type

Analogue

Odometer Reading

Kilometers

Parking options

Side Stand
Power Output
Rated Max. Power

8.5 kW

@RPM

9000 min-1
Engine Settings
Capacity

125 cc

Cylinders

Single

Idle Speed

1500±100 min-1

Bore x Stroke

56.5mm x 49.5mm

Compression Ratio

9.2:1

Stroke

4 Stroke

Norm. Compression

135 psi

Valves per cylinder

2

OHC or OHV

OHC

Engine Type

156FMI_BAL

Cooling

Air Cooled
Timing and Ignition
Spark Plug

D8EA

Spark Plug Resistance

5

Static Timing

15°±2° before TDC

Ignition

C.D.I
Fuel System
Carburettor Type

PZ26

Main Jet

0.95

Carburettor Brand

Shengwey
Valve Clearances
Exhaust Valve (Imperial)

2 thou

Inlet Valve (Imperial)

2 thou

Exhaust Valve (Metric)

0.05 mm

Inlet Valve (Metric)

0.05 mm
Drive
Pitch

428

Front Sprocket

15 T

Rear Sprocket

38 T

Chain

122 Links
Handling and Suspension
Fork Oil Volume

170 ml per leg

Fork Oil Grade

10W
Fluids
Brake Fluid Grade

DOT4

Engine Oil Grade

SAE 10W-40

Engine Oil Volume

1000 ml
Lexmoto XTR S 125 Gallery
** Pictures are for illustration purposes only
Lexmoto XTR S 125 360° View
Lexmoto XTR S 125 Media

Are Chinese bikes getting better?
Wallpaper
YouTube Videos
Lextek Sports Exhaust fitted to a Lexmoto XTR S 125
Uploaded: Sep 20, 2012
Lexmoto XTR S 125 Reviews
Bike is brand new and running reliable , its a good quality and worths paying 1500 pound.




Submitted Nov 26, 2016
by Arash Azizelahi Liverpool
good money valve but some parts has failed on me and not even a year old

Submitted May 16, 2016
by liam west sussex
Love the bike, got to do some work to it, as the owner came off it
And left it in his shed for over a year. Part from that great little bike




Submitted Mar 5, 2016
by Philip denwood Uk
bike is a really idea for a sports bike which you don't want to spend so much money out for its a really nice and comfort bike to use everyday

Submitted Nov 13, 2015
by liam bestow west sussex
Very comfortable riding position, which is a necessity as I have journeys of around 50km every week or so, and so far getting very good fuel consumption of around 110mpg.
Only 4 stars as a couple of little 'teething' issues, although these will hopefully clear up once the engine has properly run in.
Main concern is at speeds of over 50 mph (80kmh) the kickstarter arm, which I've never yet used, intermittently moves as if to drop to kick position and makes a grinding sound. This may be a parts issue, but won't know until bike is checked over at the dealership.
Overall very happy so far.




Submitted Oct 12, 2015
by Gerry North Ayrshire
Engine is bullet proof, looks great and looking forward to the summer!



Submitted Mar 25, 2015
by Sam Carlisle
Brill bike, no problems with it so far. I am a heavy chap and it rides really well with me on it!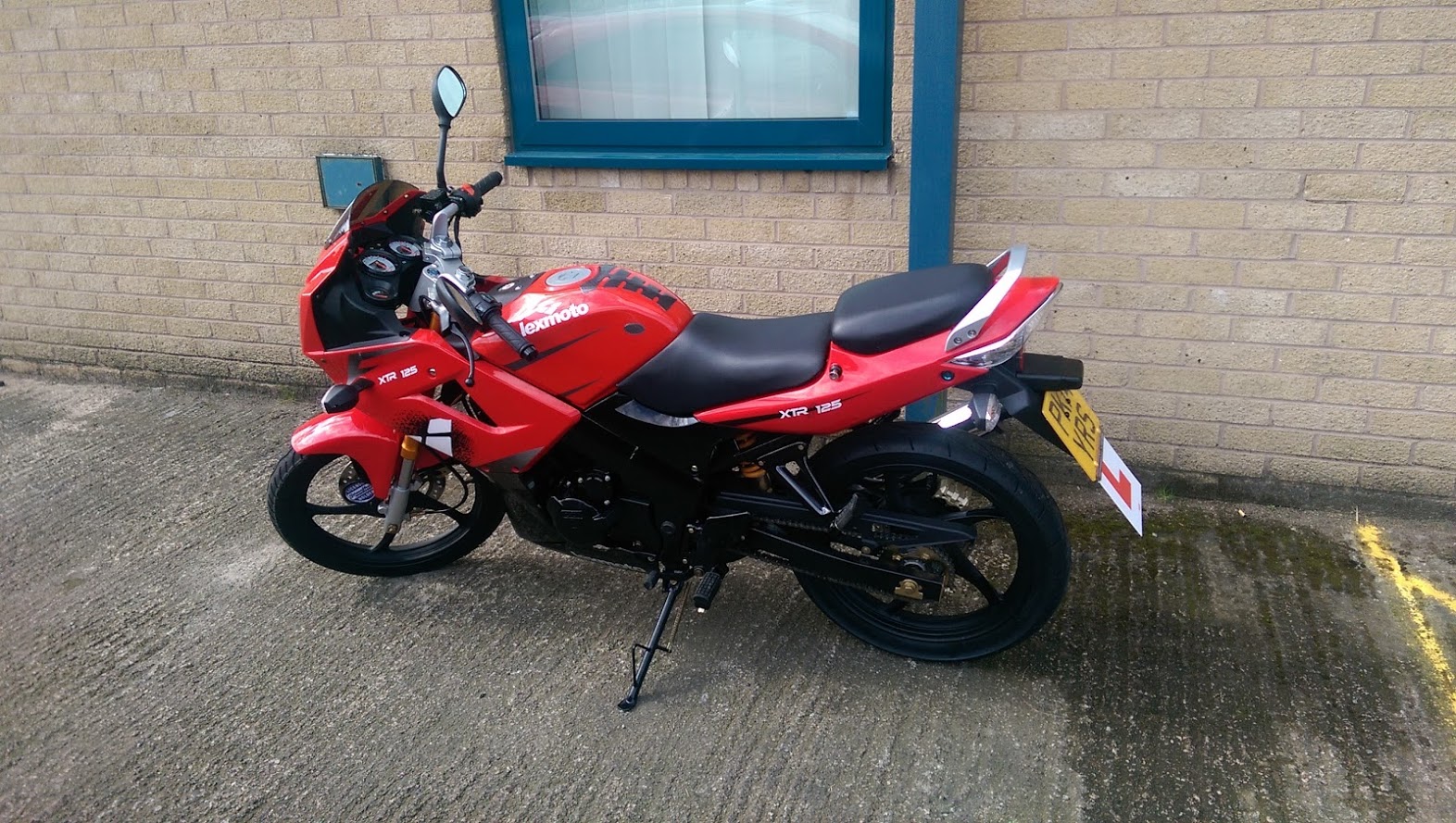 Submitted Jul 10, 2014
by philip Cumbria
After much consideration and research I purchased a Lexmoto XTRS. It has exceeded my expectations by a long way. It is a pleasure to ride and runs as smooth as silk and starts on the button every time. I haven't had to use the choke at all.
The running costs are minimal, it sips petrol and the insurance costs only £98 and I'm on a provisional licence!


The build quality looks good and the service I received from the Lexmoto dealer was superb.

It looks stunning and draws lots of comments. People don't believe me when I tell them how much it costs.



I would recommend this bike to anyone.





Submitted Aug 9, 2013
by Mark Gannon
To be honest I originaly wanted a Honda CBR 125 but had a test ride on this aswell. Must admit this slim tyres didn't fill me with confidence, but once I got on it the Lexmoto XTR S road like a dream, an easy start first time and fast accelation. I definately stuck to speed limits but can get to 80 with ease and unlike you can on the CBR. Also you're not chucked off the bike with shaking thanks to the balance shaft.
Slides very nicely road country road corners when you lock the back wheel ;-) also I use this to commute to work and its the only 125 sports bike I can be comfortable on. A definate must for anyone looking to get a 125, plus if you show your parents the XTR and not the XTR S they'll think its alot slower ;-)

Submitted Jun 12, 2011
by Aaron Causeway Wellingborough
I have been riding my Lexmoto XTR S 125 for three weeks now and it's the best 125 I have taken on the road. It's sporty, good speed, well balanced and a great design.

Just wanted to let you know how I feel. Keep up the good work.

Submitted Apr 16, 2013
by Antony Prewett
I have bought a Lexmoto XTRS 125 and it is a dream, I enjoy riding it.
I rode it to Ipswich and back with no problem the other day which is about 130 miles, it keeps up with my mates Honda CBR 125 and beats him round bends ;)

Great bike 9/10

Submitted Apr 20, 2013
by Adam Dore
Lexmoto XTR S 125 Downloads
Created: Sep 26, 2013
Size: 557 KB
Lexmoto XTR S 125 User Manuals
* Recommended Retail Prices
RRP Prices are inclusive of VAT and includes Full Assembly, Full Pre-delivery Inspection (PDI) and a 24-month warranty, but can vary according to different geographic locations as Dealers may incorporate more comprehensive warranty and service plans into their pricing and may also offer accessories or other services above standard sales. Prices in Scotland, NI and offshore islands may be higher. Government first registration fee and vehicle excise duty are not included and will be charged at the current rate except for the cost of the physical number plate, which will be included in the price of the vehicle.